Tip: Activate javascript to be able to use all functions of our website


Deals of the Year
Awards for outstanding financing
Our expertise in structuring complex financing transactions is highlighted by the awards we have received from leading international specialist magazines.

International project awards
Every year the leading publications of the international financing trade press present their "Deal of the Year" awards and, in doing so, recognise the year's outstanding financing transactions.
We were delighted to receive awards from PFI Project Finance International, IJGlobal, GTF Global Transport Finance, GTR Global Trade Review, Trade Finance Magazine and TXF Trade & Export Finance, as they represent independent confirmation of KfW IPEX-Bank's ability to structure complex loans compared to international competitors.

A successful year 2017
KfW IPEX-Bank was again one of the winners in 2017 – 7 different projects, co-financed by KfW IPEX-Bank, won a total of 13 awards.
Alongside an outstanding financing for a LNG-powered cruise ship, in 2017 it was especially projects in power, renewables and water that received awards.
Examples of our award-winning financings in 2017
Cruise Ship Deal of the Year: Two reduced-emissions cruise liners for RCCL
The prestigious specialist magazine Global Transport Finance (GTF) awarded the accolade of 'Cruise Ship Deal of the Year' to Royal Caribbean Cruises Ltd (RCCL), founded in 1968, for two reduced-emission cruise ships. The approx. EUR 2.5 billion in debt capital needed to procure the ships is being provided by an international syndicate led by KfW IPEX-Bank.
The vessels are being built at the Finnish Meyer Turku shipyard, with commissioning scheduled for 2022 and 2024, respectively. Both ships will be equipped with dual-fuel technology (LNG and marine diesel) and in normal service will be propelled by liquefied natural gas (LNG). Each will be able to accommodate more than 5,500 passengers.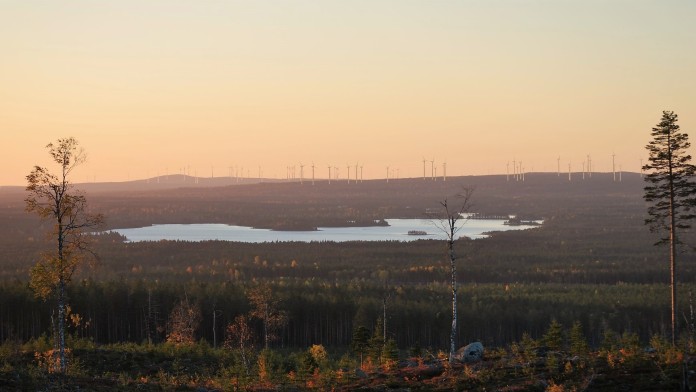 Best Deal of 2017: Markbygden ETT wind farm in Sweden
KfW IPEX-Bank is part of an international banking consortium financing the Markbygden ETT wind farm in northern Sweden. With an installed capacity of 650 MW, after completion the project will be the largest single-site onshore wind farm in Europe.
Together with three other banks, KfW IPEX-Bank is providing nearly EUR 500 million in debt capital to the project, which has a total investment volume of around EUR 800 million. The complex financing structure combines refinancing from promotional institutions, the export credit market and from commercial banks familiar with the Nordic energy market. Commissioning of the wind turbines is scheduled for mid-2018, with final completion of the wind farm expected by the end of 2019.
Infra Deal of the Year: Melbourne Metro
The expansion of the metro in Melbourne, Australia, was selected as 'Asia Pacific Infra Deal of the Year 2017' by Project Finance International (PFI) magazine. The total investment of the project is around AUD 6 billion (approx. EUR 4 billion).
One of the biggest infrastructure projects in Australia, the modernisation and expansion of Melbourne's metro network will bring about a lasting change in the cityscape as well as in the public transport conditions in the form of a new 9-km-long twin tunnel with five architecturally impressive stations under the city centre. Apart from adding to the metro's capacity, the newbuild will also substantially reduce road traffic. Following a six-year construction phase, passenger service is expected to begin in 2024.