Tipp: Aktivieren Sie Javascript, damit Sie alle Funktionen unserer Website nutzen können.


Deals of the Year
Ausgezeichnete Finanzierungen
Die Awards der führenden internationalen Fachmagazine belegen unsere Kompetenz bei der Strukturierung komplexer Finanzierungen.

Internationale Projekt-Awards
Jedes Jahr vergeben die führenden Medien der internationalen Finanzierungsfachpresse ihre "Deal-of-the-Year"-Awards und würdigen damit die herausragenden Finanzierungstransaktionen des Jahres.
Wir freuen uns über die Auszeichnungen der Magazine PFI Project Finance International, IJGlobal, GTF Global Transport Finance, GTR Global Trade Review, Trade Finance Magazine und TXF Trade & Export Finance – denn sie sind ein unabhängiger Beleg für die Leistungsfähigkeit der KfW IPEX-Bank bei der Strukturierung komplexer Kredite im internationalen Vergleich.

Erfolgreiches Jahr 2017
Auch 2017 zählte die KfW IPEX-Bank wieder zu den Gewinnern: 7 unterschiedliche Projekte, an deren Finanzierung die KfW IPEX-Bank mitgewirkt hat, wurden mit insgesamt 13 Awards prämiert.
Neben einer herausragenden Finanzierung für ein mit Flüssiggas betriebenes Kreuzfahrtschiff wurden im Bereich Infrastruktur 2017 insbesondere Projekte aus dem Bereich Energie und Umwelt ausgezeichnet.
Beispiele unserer preisgekrönten Finanzierungen 2017
Cruiseship Deal of the Year: Zwei emissionsreduzierte Kreuzfahrtschiffe für RCCL
Das renommierte Fachmagazin Global Transport Finance (GTF) zeichnete die Finanzierung von zwei emissionsreduzierten Kreuzfahrtschiffen für die 1968 gegründete Royal Caribbean Cruises Ltd. (RCCL) als "Cruiseship Deal of the Year" aus. Das zum Erwerb der Schiffe benötigte Fremdkapital in Höhe von rund 2,5 Mrd. EUR stellte ein internationales Konsortium unter Führung der KfW IPEX-Bank bereit.
Die Schiffe werden auf der finnischen Werft Meyer Turku gebaut, die Indienststellung soll 2022 und 2024 erfolgen. Beide Schiffe werden mit Dual-Fuel-Technik ausgerüstet sein (LNG und Marinediesel) und sollen im Regelbetrieb mit Flüssiggas (Liquified Natural Gas, LNG) fahren. Sie können jeweils mehr als 5.500 Passagiere befördern.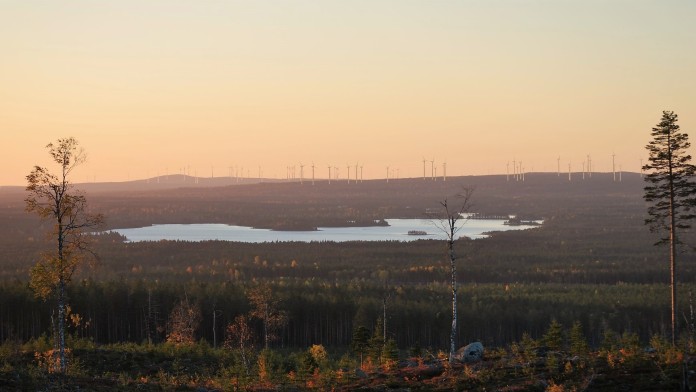 Best Deal of 2017: Windpark Markbygden Ett in Schweden
Als Teil eines internationalen Bankenkonsortiums hatte sich die KfW IPEX-Bank an der Finanzierung des Windparks Markbygden Ett im Norden Schwedens beteiligt. Mit einer installierten Leistung von 650 Megawatt wird das Projekt nach seiner Fertigstellung der größte zusammenhängende Onshore-Windpark in Europa sein.
Gemeinsam mit drei anderen Banken stellt die KfW IPEX-Bank dem Projekt knapp 500 Mio. EUR Fremdkapital zur Verfügung, die Gesamtinvestitionskosten belaufen sich auf rund 800 Mio. EUR. Die komplexe Finanzierungsstruktur weist eine Mischung aus Refinanzierungen von Förderinstitutionen, dem Exportkreditmarkt und Geschäftsbanken, die mit dem nordischen Energiemarkt vertraut sind, auf. Die Windenergieanlagen werden voraussichtlich Mitte 2018 in Betrieb genommen und Ende 2019 vollständig einsatzbereit sein.
Infra Deal of the Year: Melbourne Metro
Als "Asia Pacific Infra Deal of the Year 2017" wurde der Ausbau der Metro im australischen Melbourne vom Magazin Project Finance International (PFI) ausgezeichnet. Das Investitionsvolumen des PPP-Projekts beträgt insgesamt rund 6 Mrd. AUD (ca. 4 Mrd. EUR).
Als eines der größten Infrastrukturvorhaben Australiens wird der Ausbau der Melbourne Metro das Stadtbild sowie die öffentlichen Transportbedingungen durch den Bau eines neun Kilometer langen Zwillingstunnels unter der Innenstadt mit fünf architektonisch beeindruckenden Haltestellen nachhaltig verändern. Neben der zusätzlichen Kapazität im Metrosystem führt der Neubau auch zu einer erheblichen Reduzierung des Straßenverkehrs. Der Passagierbetrieb wird nach Abschluss der sechsjährigen Bauphase voraussichtlich 2024 aufgenommen werden.