Tipp: Aktivieren Sie Javascript, damit Sie alle Funktionen unserer Website nutzen können.


Deals of the Year
Ausgezeichnete Finanzierungen
Die Awards der führenden internationalen Fachmagazine belegen die Kompetenz der KfW IPEX-Bank bei der Strukturierung komplexer Finanzierungen.

Internationale Projekt-Awards
Jedes Jahr vergeben die führenden Medien der internationalen Finanzierungsfachpresse ihre "Deal-of-the-Year"-Awards und würdigen damit die herausragenden Finanzierungstransaktionen des Jahres.
Wir freuen uns über die Auszeichnungen der Magazine PFI Project Finance International, IJGlobal, GTF Global Transport Finance, GTR Global Trade Review, Marine Money und TXF Trade & Export Finance – denn sie sind ein unabhängiger Beleg für die Leistungsfähigkeit der KfW IPEX-Bank bei der Strukturierung komplexer Kredite im internationalen Vergleich.

Erfolgreiches Jahr 2018
2018 zählte die KfW IPEX-Bank erneut zu den Gewinnern: 13 unterschiedliche Projekte, an deren Finanzierung die KfW IPEX-Bank mitgewirkt hat, wurden mit insgesamt 16 Awards prämiert.
Neben einer herausragenden Finanzierung für einen Tunnelabschnitt zum Ausbau der Infrastruktur in Europa wurden unter anderem zwei Projekte aus dem Bereich Energie und Umwelt ausgezeichnet: zum einen ein Offshore Windpark vor der Küste Belgiens und zum anderen ein Solarthermie-Kraftwerk in Chile.
TXF Export Finance Industry Choice Award: Best Bank in Export Finance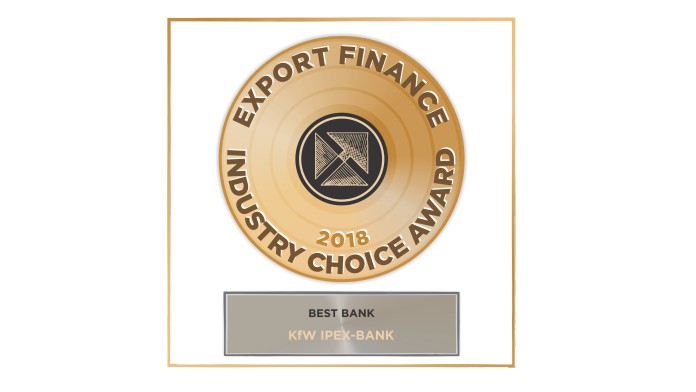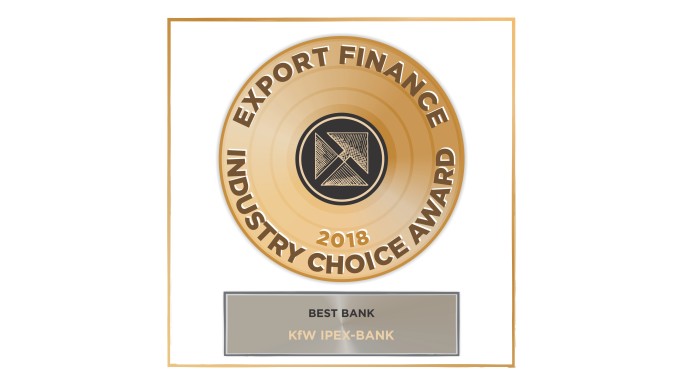 Der Preis prämiert Dienstleistungen von Banken, Kanzleien und Export Credit Agencies (ECAs), die im Bereich der Exportfinanzierung tätig sind. Die Awards wurden zum dritten Mal in Folge vergeben, diesmal auf Basis einer noch breiteren Marktumfrage mit fast 260 Rückmeldungen aus der Exportindustrie. Die KfW IPEX-Bank konnte sich bei gleich sechs von zehn Bewertungskriterien gegen andere Banken durchsetzen und belegte darin jeweils den ersten Platz.
Beispiele unserer preisgekrönten Finanzierungen 2018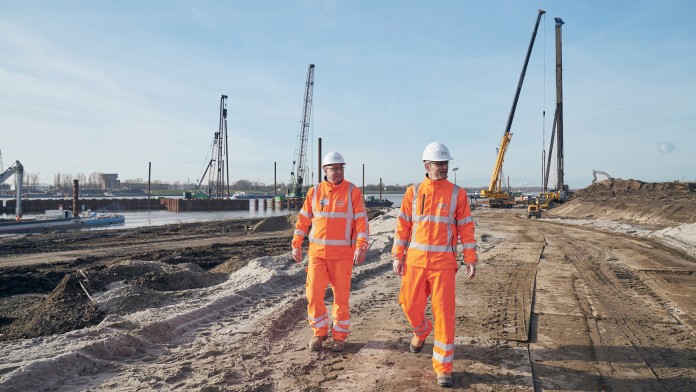 Europe Transport Deal of the Year: Der Blankenburg-Tunnel
Als bestes Transport-Projekt im europäischen Infrastrukturbereich wurde der Blankenburg Tunnel in den Niederlanden vom international renommierten Fachmagazin Project Finance International (PFI) ausgezeichnet. Das Finanzierungsvolumen des PPP-Projektes summiert sich auf insgesamt 900 Mio. EUR und der Beitrag der KfW IPEX-Bank beträgt rund 75 Mio. EUR.
Das Großvorhaben umfasst den Bau eines 4 km langen Streckenabschnitts inklusive eines Unterwassertunnels sowie eines Landtunnels. Zwei Autobahnen werden durch das neue Teilstück verbunden, wodurch der Zugang zur wichtigen Hafenstadt Rotterdam erleichtert wird.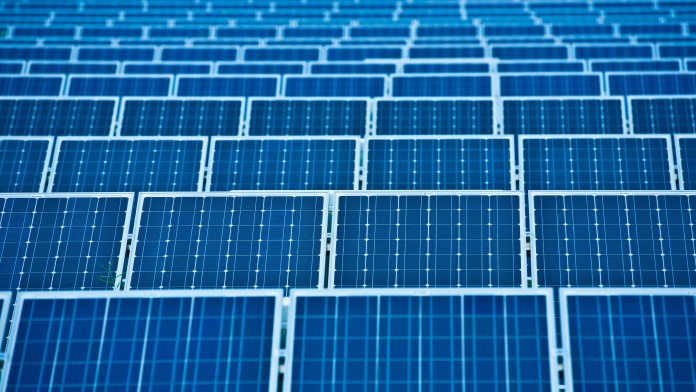 Latin American Renewables Deal of the Year: Ein Solarthermie-Kraftwerk in Chile
Das Fachmagazin Project Finance International (PFI) hat die Finanzierung des Solarthermieprojektes Cerro Dominador in der Atacama Wüste im Norden Chiles als "LatAm Renewables Deal of the Year" ausgezeichnet. Zusätzlich zum Beitrag der KfW Entwicklungsbank sowie einer Gruppe internationaler Finanzinstitutionen stellte die KfW IPEX-Bank Fremdkapital in Höhe von 55 Mio. USD bereit.
Bei dem innovativen Projekt handelt es sich um die erste kombinierte Solarthermie- und Photovoltaik-Anlage Lateinamerikas. Es unterstützt die chilenische Regierung in ihren Bemühungen, die Energieversorgung des Landes zu diversifizieren und weiterzuentwickeln. Jährlich sollen durch die Anlage ca. 870.000 Tonnen CO2 eingespart werden.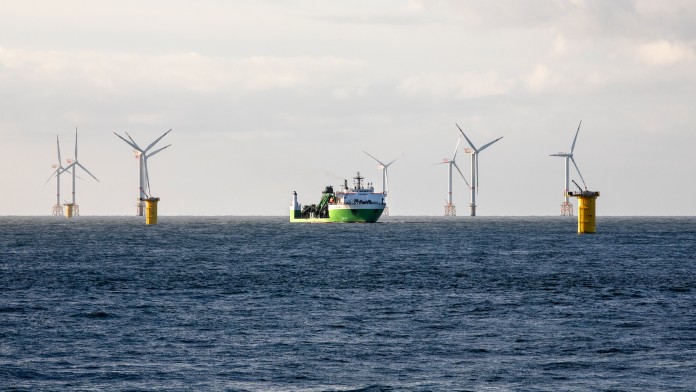 European Offshore Wind Deal of the Year: Der belgische Offshore-Windpark SeaMade
Als Teil eines großen Bankenkonsortiums – zu dem auch die Europäische Investitionsbank (EIB) gehört – hatte sich die KfW IPEX-Bank an der Finanzierung des Windparks "SeaMade" in der belgischen Nordsee mit rund 160 Mio. EUR beteiligt.
Mit einer installierten Gesamtleistung von 487 MW wird das Projekt – bestehend aus den benachbarten Offshore-Windparks "Mermaid" und "Seastar" – Belgien dabei helfen, seine nachhaltige Stromversorgung aus erneuerbaren Energien weiter auszubauen.