Tip: Activate javascript to be able to use all functions of our website
KfW IPEX-Bank participates in financing "Autopista al Mar 1" project in Colombia
News from 2019-03-21 / KfW IPEX-Bank
Devimar, the concessionaire for the PPP toll road project "Autopista al Mar 1", has successfully concluded long-term financing with a volume of 2.2 trillion Colombian pesos (USD 713 million). KfW IPEX-Bank contributed USD 75 million to the USD 220 million loan. ANI (Agencia Nacional de Infraestructura) awarded the project to Devimar in 2015 as part of a 25-year concession.
The sponsors of the project include SACYR (from Spain, 37.5%), STRABAG (from Austria, 37.5%) and CONCAY (from Colombia, 25%).
"This financial close is a very important achievement for Devimar. We are proud to receive such confidence from national and foreign banks, which underscores the solidity of the project Autopista al Mar 1. We are deeply satisfied with the progress of the project since the outset. Our venture will bring long-lasting development to Antioquia and Colombia and will have a positive impact on the wellbeing of their people," said Jesús Rodríguez Robles, CEO of Devimar.
Andreas Ufer, Member of the Management Board of KfW IPEX-Bank: "We are pleased to support our customers in financing this economically very sound and technically extremely demanding infrastructure project in Colombia".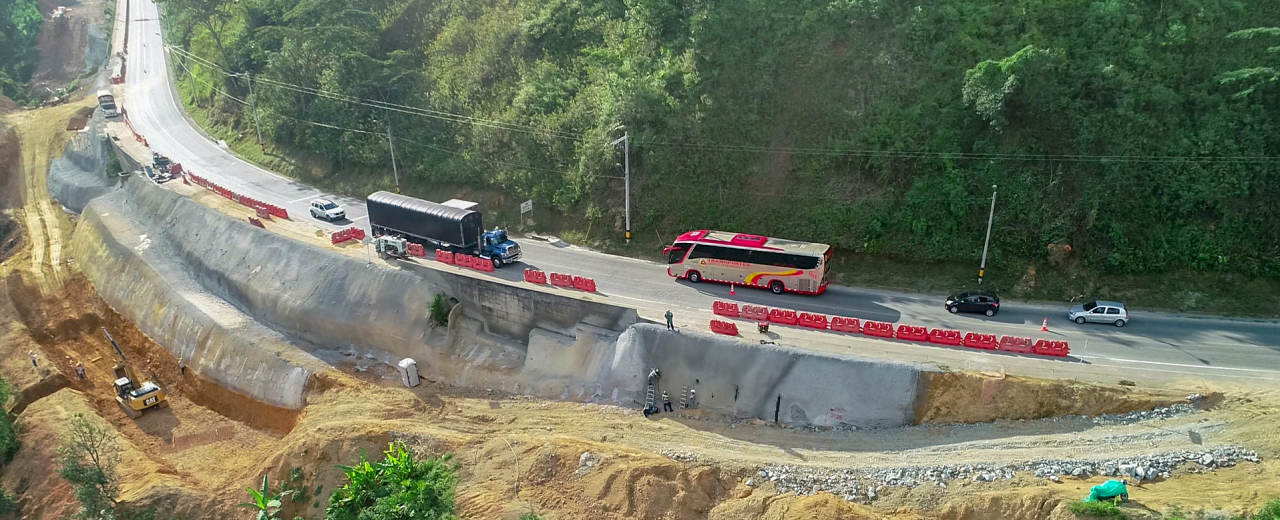 The following national and international banks participated in the financing:
Financiera de Desarrollo Nacional – FDN (Colombia)
Instituto de Crédito Oficial – ICO (Spain)
KfW IPEX-Bank (Germany)
BID Invest (multilateral bank)
CAF (Latin American development bank)
Sumitomo Mitsui Banking Corporation – SMBC (Japan)
Société Générale (France)
BlackRock (Debt Fund Colombia)
The "Autopista al Mar 1" project is currently under construction, with 30% overall progress. Work is currently underway at around 130 sites, which directly or indirectly create 2,200 jobs.
Desarrollo Vial al Mar S.A.S., also known as Devimar, is the concession company entrusted with the design, financing, environmental and social management, land acquisition, construction, rehabilitation, operation and maintenance of the "Autopista al Mar 1" project. 13 municipalities fall under the scope of the project: Medellín, Ebéjico, San Jerónimo, Sopetrán, Santa Fe de Antioquia, Buriticá, Giraldo, Cañasgordas, Anzá, Concordia, Betulia, Salgar and Venecia.
The main activities include the construction of a motorway between Medellín and Santa Fe de Antioquia, the construction of a 4.6 km tunnel parallel to the existing Túnel de Occidente, the rehabilitation of the Santa Fe de Antioquia - Peñalisa route, the operation and maintenance of the Santa Fe de Antioquia - Cañasgordas route and the 176 km concession route.
This project will bring many benefits to the region and the country, including improved road safety, reduced transport costs and travel time between Medellín and the port of Urabá on the Caribbean coast of Colombia.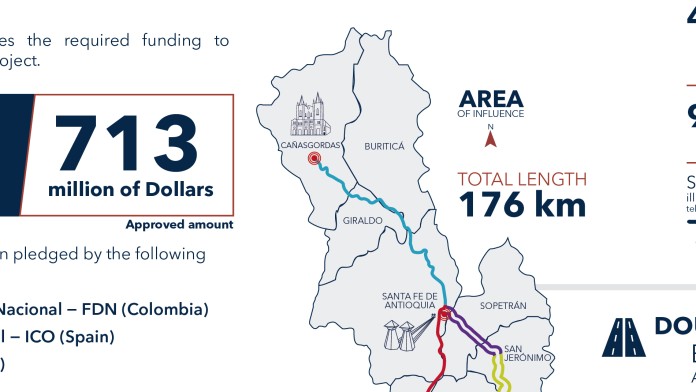 Here you will find an infographic on the project "Autopista al Mar 1" in Colombia and its financing sources:
Financial Close Autopista Al Mar 1 (PDF, 270 KB, non-accessible)