Tip: Activate javascript to be able to use all functions of our website
Press Release from 2022-05-05 / KfW IPEX-Bank
KfW IPEX-Bank and Siemens Financial Services support transport transformation: Another eight "green" locomotives for RIVE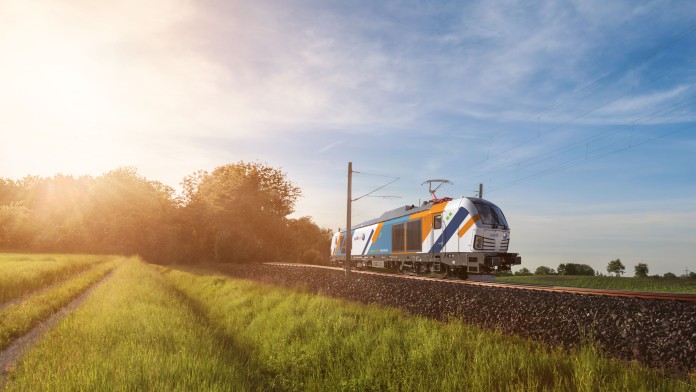 KfW IPEX-Bank has arranged financing for up to 30 new hybrid Siemens Vectron Dual Mode (VDM) locomotives managed by Northrail GmbH (Northrail) for its long-standing customer RIVE Private Investment. The lending volume of up to EUR 92.5 million will be provided jointly with Siemens Financial Services through Siemens Bank.
The first ten locomotives financed under this framework purchase agreement are already in use by various railway operators or will soon be delivered to them. As the market response to the locomotives remains very positive, an additional eight VDMs have now been ordered from the manufacturer. They will be delivered in stages from 2023. More requests for disbursement to secure further deliveries in 2024 are already being coordinated.
"We are pleased to be able to support our long-standing customer RIVE Private Investment with this transaction", explained Andreas Ufer, member of the Management Board of KfW IPEX-Bank. "At the same time, with these state-of-the-art locomotives we are making a positive contribution to the transition of rail traffic in Germany".
The financed locomotives can run on electrified routes without emitting any direct emissions and are able to bridge non-electrified route sections using a diesel generator. The result is significantly lower CO2 emissions, as non-electrified sections had previously made it necessary to use diesel vehicles on the entire route.
"The transaction further strengthens RIVE Private Investment's strategic position in the railway sector, aiming to support the energy and environmental transition policy in Europe. We are really proud to support Siemens as manufacturer while investing alongside Paribus/Northrail in innovative products that will transform the sector and fight climate change", stated Camille Brunel, Partner at RIVE Private Investment.
"The rail sector plays a particular role for the establishment of an environmentally friendly mobility and transport offer. The development of innovative propulsion concepts and the procurement of accordingly equipped vehicle fleets is therefore also a very interesting business segment for banks and investors, which Paribus Rail Investment Management is opening up for its long-term partners RIVE Private Investment and KfW IPEX-Bank", said Michael Trentzsch, Managing Director of Paribus Rail Investment Management GmbH, which is the initiator and overall project manager for the underlying locomotive procurement transaction.
The asset manager for the locomotives is Northrail GmbH, which is part of the Hamburg Paribus Group.
About KfW IPEX-Bank
Within KfW Group, KfW IPEX-Bank is responsible for project and export finance. It supports German and European companies operating in key industrial sectors in global markets by structuring medium and long-term financing for their exports, funding infrastructure investments, securing supply of raw materials and by financing environmental and climate change mitigation projects worldwide.
As a bank that stands for transformation, it finances technologies of the future to support the transition towards sustainable society in all three dimensions of the economy, environment and social. By implementing ambitious sector guidelines for CO2-intensive sectors KfW IPEX-Bank ensures its financings are compatible with the goals of the Paris Agreement. By introducing GHG accounting it aims to achieve a net zero emissions portfolio by 2050.
As specialist bank, KfW IPEX-Bank has extensive industry, structuring and country expertise, it takes on leading roles in financing consortia and actively involves other banks, institutional investors and insurance firms. KfW IPEX-Bank operates as a legally independent group subsidiary and is represented in the most important economic and financial centres across the globe.
About Siemens Financial Services
Siemens Financial Services (SFS) – the financing arm of Siemens – provides business-to-business financial solutions.
A unique combination of financial expertise, risk management and industry know-how enable SFS to create tailored innovative financial solutions. With these, SFS facilitates growth, creates value, enhances competitiveness and helps customers access new technologies. SFS supports investments with equipment and technology financing and leasing, corporate lending, equity investments and project and structured financing. Trade and receivable financing solutions complete the SFS portfolio. With an international network, SFS is well adapted to country-specific legal requirements and able to provide financial solutions globally. Within Siemens, SFS is an expert adviser for financial risks. Siemens Financial Services has its global headquarters in Munich, Germany, and has around 2,900 employees worldwide.
About Rive Private Investment
Founded in 2013, RIVE Private Investment is an independent investment group specialized in sustainable infrastructure and tangible assets (medical and security aviation, railway rolling stock, industrial equipment…). The team is made up of 20 investment specialists, who have already invested more than 2 billion euros in those strategies through nearly 100 transactions. RIVE Private Investment has a pan-European presence, through its four offices: Paris, Geneva, Luxembourg and Hamburg.
About Paribus Rail Investment Management GmbH
Paribus Rail Investment Management GmbH, based in Hamburg, is responsible for the development and structuring of rail asset investments for investors within the Paribus Group.
About Northrail GmbH
Belonging to the Paribus Group, Hamburg-based Northrail GmbH is a leading leasing provider and asset manager for rail assets in Europe. Northrail currently manages an overall portfolio of about 330 locomotives, railcars and coaches for the passenger and freight transport in Europe. The fleet managed by Northrail includes both shunting and universal locomotives as well as state-of-the-art electric and hybrid locomotives and battery-electric regional trains. Northrail develops tailor made leasing and service packages for its clients and also manages the maintenance for the vehicles.