Tip: Activate javascript to be able to use all functions of our website
Press Release from 2022-09-06 / KfW IPEX-Bank
KfW IPEX-Bank finances development activities for autonomous driving systems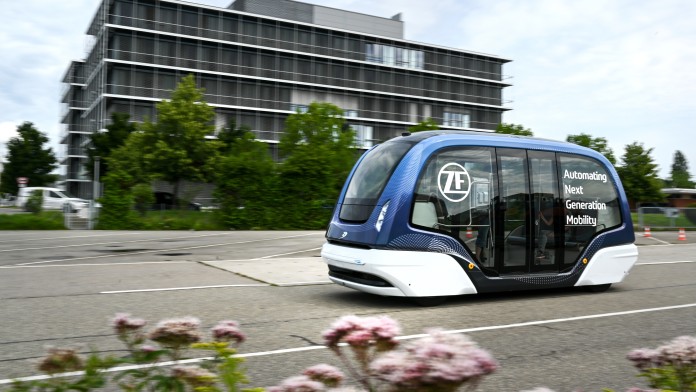 KfW IPEX-Bank is providing financing of EUR 250 million for ZF Friedrichshafen, a leading global supplier to the automotive industry, particularly in the areas of safety technology, gearboxes, drive and chassis technology. The funds will finance research and development expenses as well as investments in innovation, primarily in the field of "autonomous driving" at various European locations. They will supplement EUR 250 million in financing put up by the European Investment Bank (EIB) last December for the same purpose.
The financing will go toward selected development activities in the area of autonomous driving systems and technologies for assisted driving including the development of automated systems for electric shuttle applications. Additionally, the funds will be used to develop a broad range of components and systems for various applications and levels of automated driving that contribute to improving active vehicle safety, efficient traffic flow, improved global traffic management and therefore also to improving sustainability in the traffic sector.
"Our financing supports the development of innovative technological components and systems for state-of-the-art mobility solutions by a leading global company with high technological competence in a key German industry," said Dr Velibor Marjanovic, member of the Management Board of KfW IPEX-Bank. "With this financing we are not only giving a major boost to the competitiveness of ZF Friedrichshafen, but are also contributing significantly to increasing mobility and traffic safety and generating long-term positive impacts on the climate and the environment. It also underscores our position as a reliable partner bank on the path towards transforming the sector."
About ZF
ZF is a technology company with operations worldwide that delivers systems for the mobility of passenger cars, commercial vehicles and industrial technology. ZF lets vehicles see, think and act: in the four technology fields of Vehicle Motion Control, Integrated Safety, Autonomous Driving and Electric Mobility ZF offers extensive product and software solutions for established vehicle manufacturers and for new suppliers of transport and mobility services. ZF electrifies vehicles in a wide array of categories and its products help reduce emissions, protect the climate and make mobility safer. In 2021, with its approx. 157,500 employees worldwide ZF generated EUR 38.3 billion in earnings.The company has 188 production locations in 31 countries.