Tip: Activate javascript to be able to use all functions of our website
Press Release from 2023-03-10 / KfW IPEX-Bank
KfW IPEX-Bank provides financing for EV charging infrastructure in Europe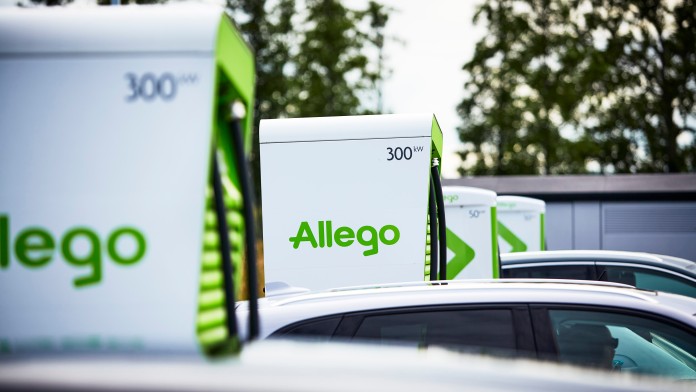 EUR 40 million contribution of KfW IPEX-Bank
KfW IPEX-Bank's first financing for electric vehicle charging infrastructure
KfW IPEX-Bank contributes EUR 40 million to EUR 400 million of debt facilities in compliance with Green Loan Principles raised by Allego. Allego is a leading pan-European charge-point operator. With the funding Allego will fulfill a substantial pipeline of contracts and expand their network of ultra-fast EV chargers across key sites in primarily Germany, France & Benelux.
"We are proud to announce our first financing for electric vehicle charging infrastructure," says Andreas Ufer, member of the Management Board of KfW IPEX-Bank. "Being an early mover in this nascent asset class fits very well with our long-standing practice to finance environmental and climate change mitigation projects worldwide."
The credit facility supports electric vehicle charging infrastructure across Europe - a segment currently substantially underserved across all geographies and representing a critical foundational pillar of the transition to net-zero mobility. Societe Generale acted as Structuring Bank and Agent, and Societe Generale and Banco Santander served as the Mandated Lead Arrangers and Bookrunners on this facility.
About Allego
Allego delivers charging solutions for all types and models of electric vehicles, facilitating consumers, businesses, and urban infrastructures. A leader in charging solutions, Allego nurtures and has built an international charging network comprising of just under 40,000 public charge points, operational throughout the pan-European market. These charging solutions are connected to the proprietary platform, EV-Cloud.
Allego is committed to providing independent, reliable, and safe charging solutions, agnostic of vehicle model or network affiliation. Being a pioneering company in EV-charging solutions, Allego continually strives to make EV charging easier, more convenient, and more enjoyable for all.
About KfW IPEX-Bank
Within KfW Group, KfW IPEX-Bank is responsible for project and export finance. It supports German and European companies operating in key industrial sectors in global markets by structuring medium and long-term financing for their exports, funding infrastructure investments, securing supply of raw materials and by financing environmental and climate change mitigation projects worldwide.
As a bank that stands for transformation, it finances technologies of the future to support the transition towards sustainable society in all three dimensions of the economy, environment and social. By implementing ambitious sector guidelines for CO2-intensive sectors KfW IPEX-Bank ensures its financings are compatible with the goals of the Paris Agreement. By introducing GHG accounting it aims to achieve a net zero emissions portfolio by 2050.
As specialist bank, KfW IPEX-Bank has extensive industry, structuring and country expertise, it takes on leading roles in financing consortia and actively involves other banks, institutional investors and insurance firms. KfW IPEX-Bank operates as a legally independent group subsidiary and is represented in the most important economic and financial centres across the globe.