Tip: Activate javascript to be able to use all functions of our website
Press Release from 2023-10-30 / KfW IPEX-Bank
KfW IPEX-Bank provides green loan for railway infrastructure in Norway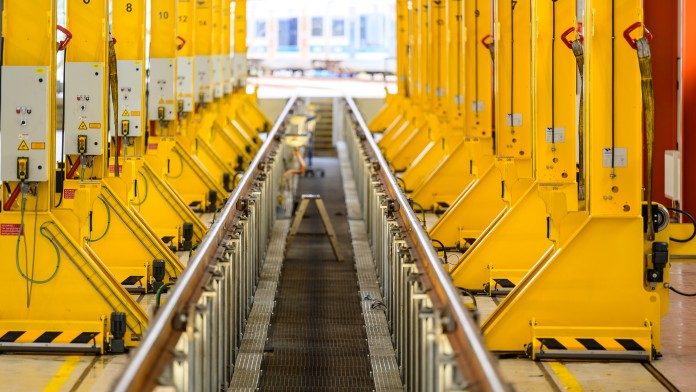 KfW IPEX-Bank provides a NOK 1,148 million (approximately EUR 100 million) green loan facility for the Norwegian Bane NOR Eiendom. The loan will be disbursed in Norwegian kroner and is split in two equally sized tranches with maturities of 7 and 9.5 years.
Bane NOR Eiendom is a Norwegian state-owned company in charge of the development and management of supportive railway infrastructure such as railway stations and train maintenance facilities across Norway.
The green loan facility by KfW IPEX-Bank is provided in accordance with the client's Green Finance Framework as well as in accordance with the Clean Transportation category of the Green Loan Principles. Projects eligible for financing include investments in supportive railway infrastructure and service facilities, such as maintenance depots, trains storage and depot facilities.
The proceeds from the KfW IPEX-Bank green loan will be used for investments in the extension and refurbishment of various maintenance workshops. These investments will enable maintenance services for longer passenger trainsets with a length of 220+ meters and will increase overall efficiency of the maintenance cycle.
"By owning, developing and managing railway property on a large scale, Bane NOR Eiendom is a crucial promoter of the further expansion of sustainable public transport devoid of CO2 emissions in Norway", says Andreas Ufer, Member of the Management Board of KfW IPEX-Bank. "We are proud to support our long-standing Norwegian customer with a Green Loan Facility."
With this financing, KfW IPEX-Bank supports the decarbonization of mobility and transport, thus helping to advance the transformation towards a CO2 neutral society and economy.
About Bane NOR Eiendom AS
Bane NOR Eiendom is Norway's leading public transportation hub developer. Bane NOR Eiendom own, develop, and manage railway stations, train workshops, and a range of properties in close proximity to the railway and city centres in major cities across Norway.
Bane NOR Eiendom is a wholly owned subsidiary by Bane NOR SF, the Norwegian rail infrastructure manager, which in turn is wholly owned by the Norwegian Ministry of Transport. The overarching goal of the company is to support the Norwegian railway and create attractive public transportation hubs with residential and commercial buildings that encourage more people to use trains and other green mobility alternatives over private cars.
About KfW IPEX-Bank
Within KfW Group, KfW IPEX-Bank is responsible for project and export finance. It supports German and European companies operating in key industrial sectors in global markets by structuring medium and long-term financing for their exports, funding infrastructure investments, securing supply of raw materials and by financing environmental and climate change mitigation projects worldwide.
As a bank that stands for transformation, it finances technologies of the future to support the transition towards sustainable society in all three dimensions of the economy, environment and social. By implementing ambitious sector guidelines for CO2-intensive sectors KfW IPEX-Bank ensures its financings are compatible with the goals of the Paris Agreement. By introducing GHG accounting it aims to achieve a net zero emissions portfolio by 2050.
As specialist bank, KfW IPEX-Bank has extensive industry, structuring and country expertise, it takes on leading roles in financing consortia and actively involves other banks, institutional investors and insurance firms. KfW IPEX-Bank operates as a legally independent group subsidiary and is represented in the most important economic and financial centres across the globe.