Tip: Activate javascript to be able to use all functions of our website
Forfaiting
As an exporter/supplier you increasingly have to offer turnkey financing solutions with corresponding payment terms to stay competitive. The need for longer payment terms is growing. Extended target guarantees, however, tie up additional capital in the total receivables and increase the risk of bad debts.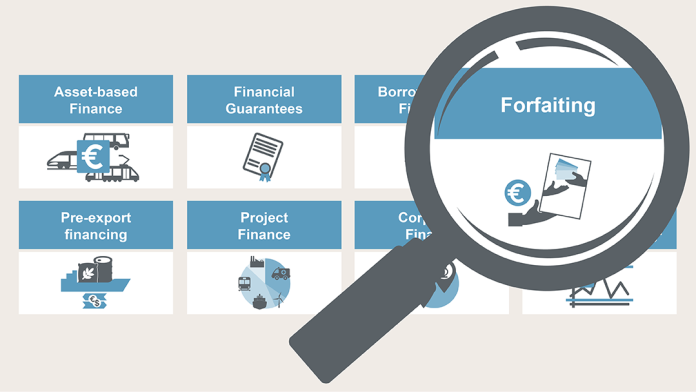 The sale of receivables without recourse not only enables financing with congruent terms and improves your liquidity, but also serves as an ideal complement to the traditional lending business, particularly as off-balance sheet financing:
Proceeds from a sale received immediately after delivery/service rendered
No default risk in the total receivables
Balance sheet contraction and thus optimisation of the balance sheet structure/equity ratio
Competitive advantages
Our expertise
As a specialist financier with proven expertise in structuring, we support you with individual solutions.
We leverage our experience and work with you to develop the best structure tailored to your needs.
We are aware of the flexibility advantages the product offers and pursue a holistic approach to optimising the structure.
Our value added
Are you looking to offer your customers payment terms without reducing your cash flow? Would you like to preserve your liquidity and minimise the risks? Are you interested in optimising your balance sheet structure without negatively impacting the existing financing facilities?
Forfeiting offers an ideal way to guarantee an inflow of liquidity and hedge the economic and political risk at the same time. To achieve this, we purchase your (foreign trade) receivables, thus mitigating the financial risk. We offer tailored support and sell receivables to make it possible to flexibly structure your business, even with longer payment terms.