Tip: Activate javascript to be able to use all functions of our website
Interest rate and currency hedging
Do you want your financing solution from KfW IPEX-Bank to maintain a high degree of flexibility in your financing project and at the same time limit possible risks from interest rate and exchange rate fluctuations? As your professional financing partner, we support you with our tailored solutions for interest rate and currency hedging.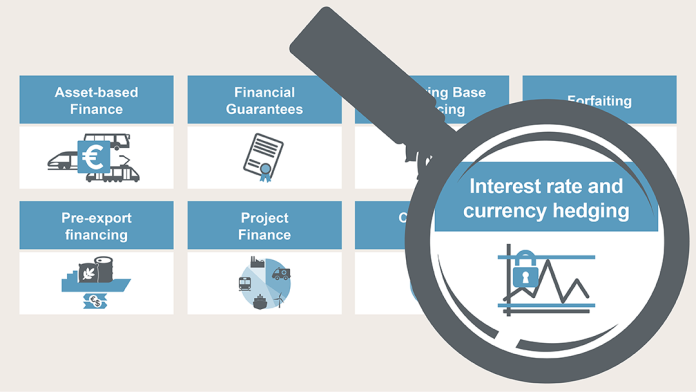 Whether interest rate swaps, interest rate options or foreign exchange transactions, our products for interest rate and currency hedging offer you many advantages in addition to your financing with us:
Hedging of interest rate risks for variable financing
High degree of flexibility in the event of changes in the financing structure due to the separation of the underlying financing and the interest rate/currency hedge
Avoidance of the risk of a rise in interest rates for new financing
Limitation of exchange rate risks
Reliable planning for forecasting future cash flows
Our expertise
Our many years of experience in the area of interest rate and currency hedging in export and project finance enable us to offer you comprehensive product know-how. We are familiar with the opportunities and risks of the products and would be glad to advise you on the use of possible interest rate and currency products for your specific financing. We work with you to develop the right solution tailored to the needs of your financing project.
Our added value
In addition to your financing with KfW IPEX-Bank, we offer you hedging against interest rate and currency risks adapted to meet your operational needs. You benefit from our personalised advice and gain greater security throughout the entire term of your financing with our customised solutions. Our products continue to offer you the flexibility you need.
We provide comprehensive support - not only during the development of the right hedging strategy to meet your needs; we are also available to you throughout the entire term.