Tip: Activate javascript to be able to use all functions of our website
News from 2019-04-03 / KfW IPEX-Bank
KfW IPEX-Bank contributes to financing for GNA I project in Brazil
The transaction included loans from IFC, a member of the World Bank Group focused on private sector investments, and from BNDES, in an unprecedented partnership with KfW IPEX-Bank, the international project and export finance arm of KfW Group. *
Rio de Janeiro, April 3rd, 2019 - GNA – Gás Natural Açu, a joint venture among Prumo Logística, BP and Siemens, announced that it closed the long-term financing for the implementation of GNA I, an LNG gas-fired thermoelectric plant with 1.3 GW of installed capacity, at Complex of Port of Açu, in Rio de Janeiro.
The financing transaction consists of two tranches: one with the International Finance Corporation (IFC), in the amount of US$ 288 million, concluded in March 2019, and another in the amount of R$ 1,76 billion, signed in December 2018, in an unprecedented partnership between BNDES and KfW IPEX-Bank. KfW IPEX-Bank, in turn, is supported by Euler Hermes Aktiengesellschaft, the German Export Credit Agency.
"Today is a remarkable day for GNA, as we complete the long-term financing of GNA I. We are building and structuring a transformational project, that today employs more than 2,500 people, 70% of whom are local residents, and will contribute to diversification of Brazilian energy matrix", says Bernardo Perseke, GNA's CEO. The executive adds: "The support from our lenders attests the relevance of our project to the country and our commitment to sustainable development and respect for local communities."
The GNA I project, expected to start commercial operation in 2021, consists of an integrated 1.3 GW combined cycle gas turbine (CCGT) based-fired power plant, an LNG import marine terminal, a transmission line, and the expansion of an existing substation. The plant will be linked to Brazil's electrical grid, called the National Interconnected System (SIN). The project is part of the largest LNG-to-power complex in Latin America, which is being built by GNA at Port of Açu. Besides the GNA I, the company will build GNA II with 1.7 GW of installed capacity. Together, the two thermoelectric power plants will achieve 3 GW of installed capacity.
GNA I will support the diversification of Brazil's energy matrix, enhancing system resilience, promoting energy security, and contributing to reliable and affordable energy.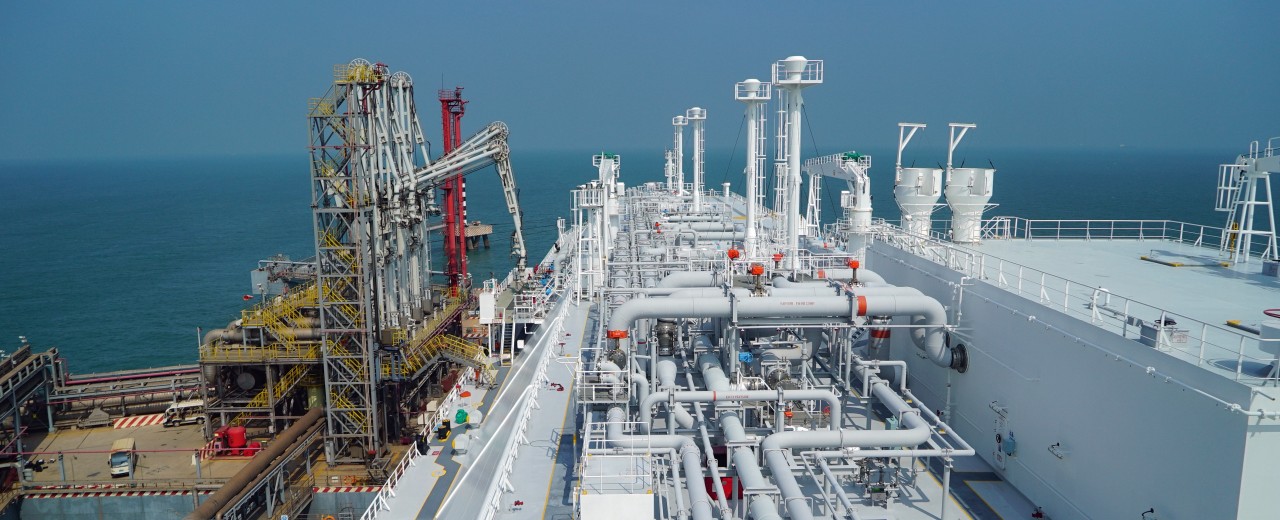 Expansion
GNA also has environmental license to more than double its size, reaching 6.4 GW of installed capacity, which will allow the development of additional thermoelectric projects in the future. In addition, the strategic location of Port of Açu, near the pre-salt producing fields, will enable the creation of a gas hub for reception, processing and transportation of associate gas.
"A sustainable energy matrix, resilient throughout seasonal variations, is critical for Brazil's long-term competitiveness and economic growth," said Lance Crist, senior manager in IFC's infrastructure department. "IFC views LNG- to-power as a global strategic priority in supporting countries to access and integrate with global energy markets, while reducing carbon intensity of power grids, and favoring further penetration of renewable energy."
"The successful financial closing of the LNG-to-Power project once again underscores KfW IPEX-Bank's innovative structuring competence in its support of the European export industry," explains Markus Scheer, Member of the Management Board of KfW IPEX-Bank GmbH in charge of Power, Renewables and Water. "At the same time, this forward-looking project positions us in the market for power generation from liquefied natural gas (LNG), which we believe has high potential for growth. What's more, support for this technology can also make a significant contribution to environmental protection and climate change mitigation – this is a core principle of KfW IPEX-Bank and is reflected in all our export and project finance activities."
"Beyond 1.3 GW increase in power generation capacity of the National Interconnected System, UTE GNA I, first LNG project to be financed by BNDES, contributes to diversification of energy sources, from of a fuel whose supply can be controlled, thus contributing to the safety of the system in periods of lack of rainfall, especially if we take into account the proximity of the plant to the regions of greater electric demand in Brazil", explains Carla Primavera, Superintendent of Energy at BNDES. "Another relevant aspect is that the partnership with KfW IPEX-Bank can pave the way for other partnerships between institutions in infrastructure projects," she concludes.
*this press release was originally published by GNA
About GNA
GNA - Gás Natural Açu is a joint venture formed among Prumo Logística, BP and Siemens, which is dedicated to the development, implementation and operation of sustainable and structuring energy and gas projects. The company is building in Complex of Port of Açu, Rio de Janeiro, the largest LNG-to-power complex in Latin America. Currently, the project includes the development of two natural gas-fired thermoelectric plants (GNA I and GNA II), which together, will achieve 3 GW of installed capacity, as well as a LNG regasification terminal.
About KfW IPEX-Bank
Within KfW Group, KfW IPEX-Bank is responsible for international project and export finance. It offers medium and long-term financing to support key export industries, to develop economic and social infrastructure, to fund environmental and climate protection projects and to secure the supply of raw materials. KfW IPEX-Bank operates as a legally independent group subsidiary and is represented in the most important economic and financial centres across the globe. For more information, visit www.kfw-ipex-bank.de/en