Tip: Activate javascript to be able to use all functions of our website
Press Release from 2021-02-15 / KfW IPEX-Bank
KfW IPEX-Bank and BNP Paribas partner to support Hapag-Lloyd in a Green Loan financing for three ultra large container vessels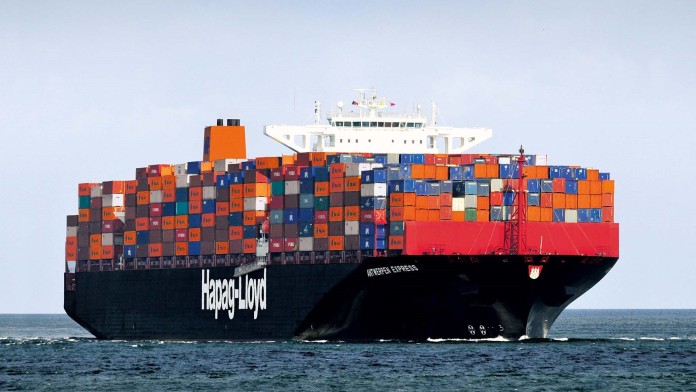 KfW IPEX-Bank and BNP Paribas partner to support Hapag-Lloyd in achieving a Green Loan financing for three of six ultra large container vessels, which were ordered in December 2020.
KfW IPEX-Bank and BNP Paribas have signed a loan agreement with Hapag-Lloyd AG for USD 417 million to finance three 23,500 TEU container vessels. Under a syndication arrangement, the two banks included nine other international banks in the financing. The transaction was structured and coordinated by KfW IPEX-Bank and BNP Paribas acting jointly as Global Coordinators and as Green Finance Coordinators.
The 12-year financing fulfils the Loan Market Association's Green Loan Principles as confirmed in an expert opinion by DNV GL and is secured via cover from Korea Trade Insurance Corporation (K-SURE).
Following their construction in South Korea, delivery of the vessels is scheduled for 2023. Given their extremely efficient high-pressure dual-fuel engines the vessels will generate approx. 15 to 25 per cent CO2 savings compared to traditional engines.
"We are very pleased to assist our long-standing customer Hapag-Lloyd in its efforts to make increasing use of sustainable technologies in container shipping," said Andreas Ufer, member of the Management Board responsible for Maritime Industries at KfW IPEX-Bank. "For us, this project marks a further step towards making shipping more sustainable. The support of the participating banks for sustainability in shipping is further amplified by the establishment of the Green Loan Principles. What is more, we are highly pleased that two members of the German Maritime Export Initiative (GeMaX) are also on board: MAN Energy Solutions - which is supplying the engines - and DNV GL – as well as other German and European suppliers, all of which play a decisive role in the project's success."
Cecile Moitry, BNP Paribas Co-Head Sustainable Finance Markets said: "Supporting the transition towards cleaner oceans and accelerating decarbonisation across the shipping sector is vital to meet the goals of the Paris Agreement. Through this landmark Green Loan that sets a progressive industry benchmark, Hapag-Lloyd has demonstrated their leadership in harnessing sustainable finance mechanisms to modernise their shipping fleets, reduce emissions and ultimately align towards a greener business strategy."
About BNP Paribas
BNP Paribas is a leading bank in Europe with an international reach. It has a presence in 71 countries, with approximately 199,000 employees, of which more than 151,000 in Europe. The Group has key positions in its three main activities: Domestic Markets and International Financial Services (whose retail-banking networks and financial services are covered by Retail Banking & Services) and Corporate & Institutional Banking, which serves two client franchises: corporate clients and institutional investors. The Group helps all its clients (individuals, community associations, entrepreneurs, SMEs, corporates and institutional clients) to realise their projects through solutions spanning financing, investment, savings and protection insurance.
In Europe, the Group has four domestic markets (Belgium, France, Italy and Luxembourg) and BNP Paribas Personal Finance is the European leader in consumer lending.
BNP Paribas is rolling out its integrated retail-banking model in Mediterranean countries, in Turkey, in Eastern Europe and a large network in the western part of the United States. In its Corporate & Institutional Banking and International Financial Services activities, BNP Paribas also enjoys top positions in Europe, a strong presence in the Americas as well as a solid and fast-growing business in Asia-Pacific.