Tip: Activate javascript to be able to use all functions of our website
Press Release from 2021-08-19 / KfW IPEX-Bank
KfW IPEX-Bank and RBI finance technical systems for REWE logistics centre in Schleswig-Holstein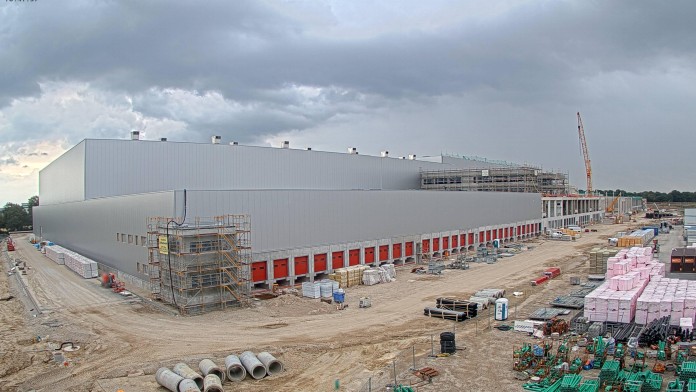 KfW IPEX-Bank, together with the Austrian Raiffeisen Bank International (RBI), is financing the construction of a new, partially automated REWE logistics centre in Henstedt-Ulzburg, Schleswig-Holstein, with a total investment volume of around EUR 330 million. It had already provided the necessary real estate finance for this project with RBI at the beginning of the year. Now, in a second step, the two banks are financing the logistics centre's new, highly efficient intralogistics system with a loan totalling around EUR 70 million. KfW IPEX-Bank is providing 70% of the financing and RBI the remaining 30%.
The investment is part of a REWE Group logistics campaign to ensure a faster, more efficient and high-quality supply of goods for customers in REWE stores by optimising the warehouse network structure with an eye to the future. This goes hand in hand with a significant reduction in greenhouse gas emissions, among other things. The financing resources are being provided by KfW's Energy Efficiency programme.
The logistics centre with a total of 104,000 square metres of warehouse and office space is currently being built by the REWE supermarket group together with the regional administration at the Henstedt-Ulzburg site around 35 kilometres to the north of Hamburg, just off the A7 motorway. From August 2022 onwards, the centre will supply more than 660 REWE stores and nearly 100 nahkauf stores in northern Germany with fruit, vegetables, refrigerated fresh produce, meat, dry goods, frozen goods, health and beauty products and non-food items. With the help of the automated logistics systems that have now been financed, the centre will be able to pick more than 300,000 items according to each store's needs every day. Around 500 employees will work in the new logistics centre. Together with the employees from the regional administration, the number will grow to around 1,000 by 2025.