Tip: Activate javascript to be able to use all functions of our website
Press Release from 2022-05-03 / KfW IPEX-Bank
Food retail both green and digital: KfW IPEX-Bank finances first fully automatic warehouse in Germany for Picnic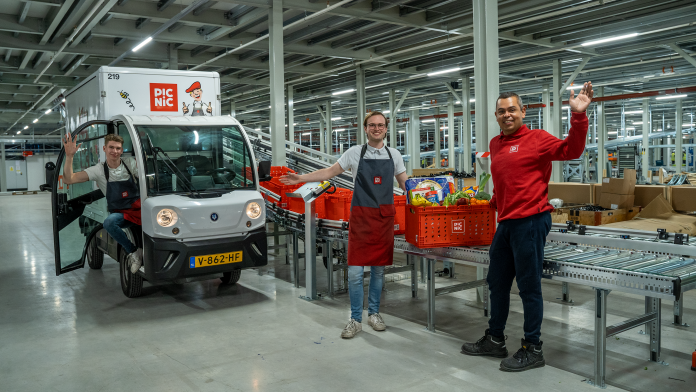 The Dutch online supermarket Picnic is building its first fully automated warehouse in Oberhausen/Germany. KfW IPEX-Bank is financing the state-of-the-art intralogistics equipment in the amount of EUR 120 million.
This innovative company with a novel business idea was founded in the Netherlands in 2015 and has also been active in the German state of North Rhine-Westphalia since 2018. Together with its strategic partner Edeka, it is expanding its business in the German market, and the construction of the first digitalised warehouse in Germany represents a milestone in this respect. Almost identical to Picnic's fully automatic warehouse in Utrecht (NL) – which recently went into operation – the new warehouse in Oberhausen will also be equipped with an intralogistics system from TGW. The Austrian systems engineering company specialises in logistics solutions in the food and consumer goods sector.
Unlike other food delivery services, Picnic delivers on the same routes at regular intervals. The focus of this "milk man principle" is the recurring weekly shopping of families living in suburbs. The bundling of several and larger orders reduces the volume of traffic, and the delivery vehicles developed in-house are fully electric and thus CO2-free. What is more, the online supermarket only procures the products in the quantities in which they are actually ordered by customers, thereby avoiding unnecessary food waste and making a further positive contribution to the environment.
"We are glad to be able to support a young, innovative and dynamic start-up such as Picnic on its growth path in Germany with its business model that is strongly oriented towards digital processes," said Dr Velibor Marjanovic, responsible member of the Management Board of KfW IPEX-Bank. "In addition, the company has a strong partner on board with our long-standing valued customer Edeka. This gives us the best prospects for success with this trend-setting investment in Oberhausen. We are pleased to be supporting the project with our financing."
"We have found a strong partner in KfW IPEX-Bank that is backing us in this major endeavour. KfW stands for innovation and progress," added Frederic Knaudt from the founding team of Picnic in Germany. "With KfW IPEX-Bank's support, we will build the most modern e-food warehouse in the world in the heart of Germany's Ruhr region."
About Picnic
The online supermarket Picnic is setting new standards for food shopping and is now delivering to over 350,000 customers in 57 cities. Picnic puts producers in direct contact with customers at home, in every neighbourhood, every day. As it does not maintain any branches, Picnic delivers products that are fresher and less expensive compared to traditional supermarkets. Picnic's deliveries are always free, 100 per cent electric and are brought by friendly runners with a smile. Picnic offers its customers a fundamentally new delivery experience that convinces hoards of enthusiastic families to sign up for the service in every city in which the company opens for business.