Tip: Activate javascript to be able to use all functions of our website
Press Release from 2022-07-18 / KfW IPEX-Bank
KfW IPEX-Bank contributes to 1.5 billion refinancing for Eurofiber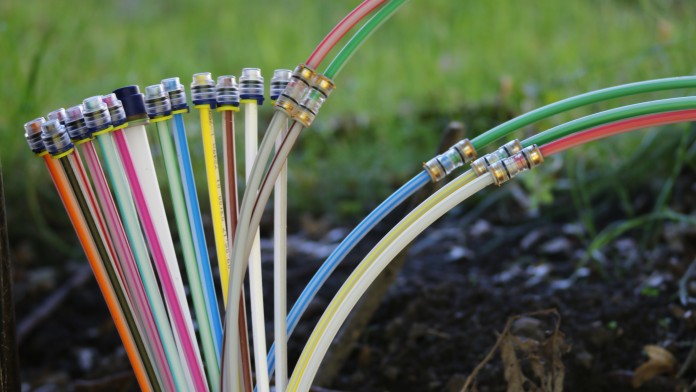 Support of fiber optics expansion across Europe
Sustainability-linked financing
KfW IPEX-Bank as part of a consortium of Underwriters and Lenders structured and provided the refinancing of Eurofiber's existing debt facilities as well as expansion and working capital financing in total of EUR 1.5 billion. KfW IPEX-Bank acted as Mandated Lead Arrangers in the transaction. The facilities will support Eurofiber's further fiber network expansion across Europe and include sustainability incentives in alignment with Eurofiber's sustainability program, which includes measures that will lead to a 50% CO2 reduction by 2025, furthering the company's goal to be 100% climate proof by 2030.
As a provider of open-access digital infrastructure since 2000, Eurofiber owns and operates industry-leading fiber optic networks and cloud infrastructure solutions in the Benelux, France and Germany. The financing will be used to invest in the rollout of fiber optic networks to bring state of the art connectivity to business clients and homes and drive the digital society forward. The ESG linkage of the loan and swaps further demonstrates Eurofiber's commitment to sustainability.
"Financing the expansion of digital infrastructure is one of our key areas of activity" said Dr Velibor Marjanovic, member of the Management Board of KfW IPEX-Bank. "Last year alone, we provided more than EUR 1 billion to expand fiber optics in Germany and Europe. We are very proud we now have been able to support Eurofiber as mandated lead arranger with this landmark refinancing."
About Eurofiber
Eurofiber has been a provider of industry-leading open digital infrastructure since 2000. Utilizing own fiberoptic network and datacenters, the company provides smart, open, future-proof cloud infrastructure and connectivity solutions to companies, government bodies and non-profit organizations. Customers have complete freedom to choose the services, applications and providers they need, allowing them to tap into the full potential of digital innovation. Eurofiber has a 61,700 km fiberoptic network in the Netherlands, Belgium, France and Germany. This network is expanded by 50 km per week on average. Eurofiber companies Dataplace, FullSave and Eura DC operate eleven datacenters in the Netherlands and France. Supplementing that vital infrastructure, the company also offers interconnectivity between nearly all carrier-neutral datacenters in The Netherlands and Belgium through the DCspine platform. Eurofiber is laying the foundation under the digital society, which is why the Dutch government has assigned Eurofiber the status of 'vital infrastructure'.
Eurofiber is supported by its shareholders Antin Infrastructure Partners, a leading private equity firm focused on infrastructure investments, and the PGGM Infrastructure Fund, an open-ended core infrastructure fund with investments in OECD countries.
The Eurofiber Group consists of: Eurofiber, Eurofiber Cloud Infra (including DCspine, MatrixMind and Dataplace (The Netherlands)), FullSave, Lumos, Netiwan, Eurafibre, ATE and Eura DC (France). Eurofiber participates in joint ventures Vattenfall Eurofiber (Germany) and Unifiber (with Proximus, Belgium) and has an investment partnership with German NGN Fiber Network.