Tip: Activate javascript to be able to use all functions of our website
Press Release from 2022-12-28 / KfW IPEX-Bank
KfW IPEX-Bank finances dual-fuel RoPax ferry for TT-Line
"Green ship" with state-of-the-art environmental technologies to be used on the Baltic Sea between Sweden and the European continent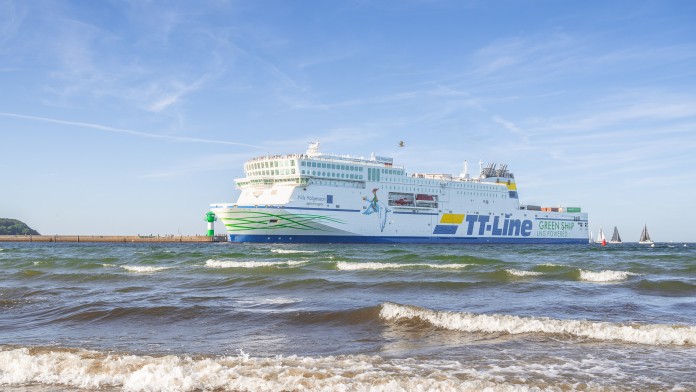 KfW IPEX-Bank is providing financing in the amount of EUR 30 million for the German shipping company TT-Line's dual-fuel RoPax ferry "Nils Holgersson". The ship is one of the most modern and environmentally friendly in its class. With a length of 230 metres, it offers space for 800 passengers and 300 trailers.
"We are delighted to have gained the renown Baltic Sea ferry shipping company TT-Line as our customer. We are pleased to be able to support their commitment to environmentally friendly and sustainable ferry transport", said Andreas Ufer, Member of the Management Board of KfW IPEX-Bank. "With this financing, we are once again underscoring our commitment to supporting our customers in their transformation to CO2-efficient shipping."
The Nils Holgersson is one of two new green ships delivered to TT-Line in 2022. The ferries are equipped with a LNG package from MAN Energy Solutions SE and many other components from German, Swedish and European suppliers. In addition to the environmentally friendly dual-fuel engines, which TT-Line has already used with Bio-LNG, they are equipped with further cutting-edge technologies and innovative solutions, including heat-insulating windows and 32 charging stations for electric cars. A special low-friction underwater coating and the streamlined hull shape ensure a high degree of energy efficiency.
About TT-Line
With eight modern RoPax ferries, the private TT-Line shipping group has been offering a quick, environmentally friendly and affordable connection across the Baltic Sea between Germany, Sweden, Poland and Lithuania for 60 years. TT-Line transports approximately 1.000,000 passengers, 300,000 cars and more than 500,000 freight units annually, making it the market leader in direct transport between the continent and southern Sweden. TT-Line's technology and environmental management has already received several awards. TT-Line has further developed its "Green Bridge" concept with the "Green Ship" corporate concept and began building the new generation of ferries in December 2019. The installation of diesel-electric drive systems in the existing fleet creates a further reduction in pollutant emissions. The company's CO2 footprint is further improved with streamlined hull shapes and consumption-optimised speed management.