Tip: Activate javascript to be able to use all functions of our website
Press Release from 2023-03-16 / KfW IPEX-Bank
KfW IPEX-Bank and DEG: a new presence in Bogotá, Colombia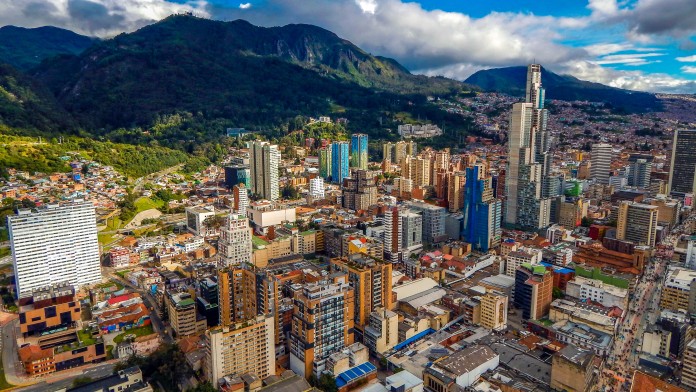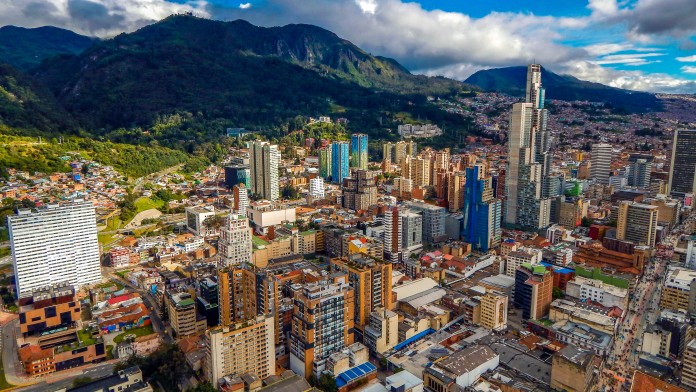 KfW IPEX-Bank and DEG (German Development Finance Institution) have expanded their existing office network to include a shared location in Bogotá, Colombia.
In addition to existing locations in South America, such as São Paulo, the new KfW IPEX-Bank representative office will cover the northern part of the continent and support the bank's business activities in Colombia, Ecuador, Peru and Bolivia. Its focus areas include infrastructure (including mobility), digital infrastructure, raw materials and renewable energies.
KfW IPEX-Bank will use this office to maintain contact with customers, public entities and financial institutions, and to analyse local markets in order to unearth new business potential for the bank and its customers. The representative office serves as the primary point of contact for local companies and exporters in the region as well as a link to the headquarters in Frankfurt.
Frank Breitenbach is the director of the office. He has been part of KfW since 2003 and worked at KfW IPEX-Bank since 2007. He was previously responsible for financing infrastructure, ports and airports in Latin America.
"For KfW IPEX-Bank, the Andean region represents a key future market in which we help German and European investors and exporters to pursue their plans and assist them with tailored financing products," states Dr Velibor Marjanovic, Member of the Management Board of KfW IPEX-Bank. "As an economically strong and densely populated country with around 50 million inhabitants and numerous German and European trading partners alongside a well developed financing market, Colombia represents the ideal location to do this."
DEG is represented in Latin America with offices in Sao Paulo, Mexico City and Lima. DEG sees additional potential in Colombia for financing and advising private companies from various sectors. The new DEG location in Bogotá is a satellite of its Peruvian office and a contact point for companies in Colombia and for infrastructure and energy companies from the Andean region and Central America. Thomas Cremer, CFA, who has been working for DEG since 2014, has been a local representative since 2020 and was responsible for project financing and equity investment business in Latin America, among other things.
"As a partner to private companies, we want to promote sustainable, successful investments in Colombia and the region with our representation in Bogotá. In line with our strategy, we finance and advise companies on their transformation so that they can take advantage of business opportunities. At the same time, we are increasing the impacts of business projects in terms of development and climate protection," emphasises Roland Siller, Chair of the DEG Management Board. "We see great potential for this in the region, especially in the energy sector, with the production of green electricity." The DEG portfolio for Colombia currently amounts to around EUR 66 million.
The Andean region is an interesting market for German and European companies. The integration of the Andean countries into the Comunidad Andina (CAN – Andean Community) and the numerous free trade agreements under the Latin American Pacific Alliance strengthen the region's emerging economies.
About KfW IPEX-Bank
Within KfW Group, KfW IPEX-Bank is responsible for project and export finance. It supports German and European companies operating in key industrial sectors in global markets by structuring medium and long-term financing for their exports, funding infrastructure investments, securing supply of raw materials and by financing environmental and climate change mitigation projects worldwide. As a bank that stands for transformation, it finances technologies of the future to support the transition towards sustainable society in all three dimensions of the economy, environment and social. By implementing ambitious sector guidelines for CO2-intensive sectors KfW IPEX-Bank ensures its financings are compatible with the goals of the Paris Agreement. By introducing GHG accounting it aims to achieve a net zero emissions portfolio by 2050. As specialist bank, KfW IPEX-Bank has extensive industry, structuring and country expertise, it takes on leading roles in financing consortia and actively involves other banks, institutional investors and insurance firms. KfW IPEX-Bank operates as a legally independent group subsidiary and is represented in the most important economic and financial centres across the globe.
About DEG
DEG has been financing and advising private enterprises operating in developing and emerging-market countries. With a portfolio of around EUR 9.9 billion we're one of the world's largest private-sector development financiers. As an impact and climate investor we accompany companies that are addressing transformation and aiming to seize their opportunities. Our customers not only receive financing and advisory solutions tailored to their needs: they can build on our market knowledge, our impact and climate expertise and our international network. In this way, we contribute together to creating more skilled jobs and local income and to improving value creation on the ground in line with the SDGs.