Tip: Activate javascript to be able to use all functions of our website
Press Release from 2023-09-05 / KfW IPEX-Bank
BNDES and KfW IPEX-Bank sign Memorandum of Understanding to co-finance Brazilian projects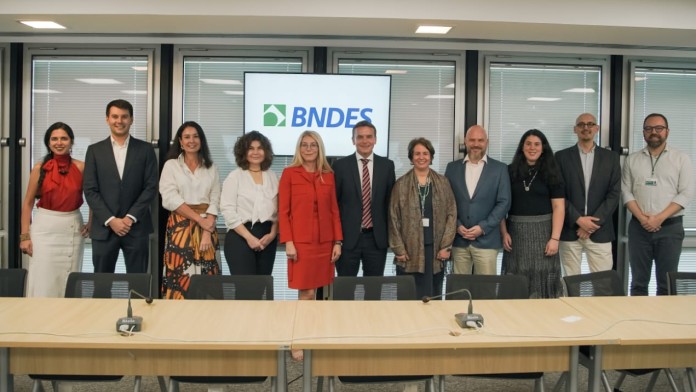 Rio de Janeiro / Frankfurt, 4 September 2023
Banco Nacional de Desenvolvimento Econômico e Social - BNDES, the Brazilian National Development Bank, and KfW IPEX-Bank, the German project and export finance bank within state-owned KfW Group, signed a Memorandum of Understanding (MoU) to expand their business cooperation and underline their intention to co-finance projects in Brazil of up to 1 billion Euro (in connection with KfW-IPEX-Bank support) in the next five years.
The signing ceremony in Rio de Janeiro was hosted by Luciana Aparecida da Costa, Executive Officer of Infrastructure, Energy Transition and Climate Change Division of BNDES, in the presence of Belgin Rudack, Chief Executive Officer of KfW IPEX-Bank, and other high-profile representatives of both institutions.
"The strong presence of German and European companies in Brazil and the opportunities for productive investment and technology development linked to the global decarbonization effort make the partnership between KfW IPEX-Bank and BNDES even more relevant at this time", highlighted Luciana Costa, Executive Officer of Infrastructure, Energy Transition, and Climate Change at BNDES.
In the context of the partnership between the two institutions, Natália Dias, Executive Officer for Capital Markets and Sustainable Finances at BNDES, pointed out that "this initiative that we negotiated with KfW IPEX-Bank represents another step in the important relationship between BNDES and KfW Group, forming part of the Brazil-Germany strategic partnership that has been developed between the governments, in which BNDES and KfW IPEX-Bank are the reference bodies for investment issues and credit. There are several fronts, including loans, guarantees and non-refundable instruments, such as the Amazon Fund."
"BNDES and KfW IPEX-Bank are well aligned in their sector focus and have many common strategic goals in their respective host countries," explains Belgin Rudack at the signing ceremony. "Together, we want to shape and positively influence the 'Decade of Choice', which we support with our plan to invest up to 1 billion EUR in existing and future technologies, to promote the development and transformation of the Brazilian economy on a sustainable basis."
Sectors of interest will range from energy, water, sanitation, infrastructure, mobility to industry & commerce, with a focus on financings with a positive environmental impact, as well as energy transition, climate and environmental protection projects. Due to its mandate, KfW IPEX-Bank will prioritize investment opportunities where German and European companies are involved to support and promote their business activities in Brazil. Products may include ECA-covered and uncovered project and export financings, corporate loans or credit guarantee structures for local currency financings.
About BNDES
BNDES is one of the world's largest development banks and the Federal Government's main instrument for long-term financing and investment in all segments of the Brazilian economy. BNDES supports entrepreneurs of all sizes, including individuals, by financing investments, underwriting securities, providing guarantees, and granting non-refundable funds. The support of the institution focuses on positive social, environmental, and economic impact, always taking into consideration the potential to generate jobs, income, and social inclusion for Brazil. Encouraging innovation, regional development, and social and environmental development are BNDES' priorities. During periods of crisis, BNDES has an essential anticyclical role and assists in the structuring of solutions for recovering economic growth. BNDES is here to support Brazil's development where necessary.

About KfW IPEX-Bank
Within KfW Group, KfW IPEX-Bank is responsible for project and export finance. It supports German and European companies operating in key industrial sectors in global markets by structuring medium and long-term financing for their exports, funding infrastructure investments, securing supply of raw materials and by financing environmental and climate change mitigation projects worldwide. As a bank that stands for transformation, it finances technologies of the future to support the transition towards sustainable society in all three dimensions of the economy, environment and social. By implementing ambitious sector guidelines for CO2-intensive sectors KfW IPEX-Bank ensures its financings are compatible with the goals of the Paris Agreement. By introducing GHG accounting it aims to achieve a net zero emissions portfolio by 2050. As specialist bank, KfW IPEX-Bank has extensive industry, structuring and country expertise, it takes on leading roles in financing consortia and actively involves other banks, institutional investors and insurance firms. KfW IPEX-Bank operates as a legally independent group subsidiary and is represented in the most important economic and financial centres across the globe.