Tip: Activate javascript to be able to use all functions of our website
Pre-export financing
As a company that generates foreign exchange earnings from the export of raw materials, would you like to enhance your liquidity? Does your company produce or refine commodities listed on a stock exchange and do you need medium-term working capital financing? Are you producing in a developing country or emerging economy rich in raw materials and would you like financing that also integrates your subsidiary in this country?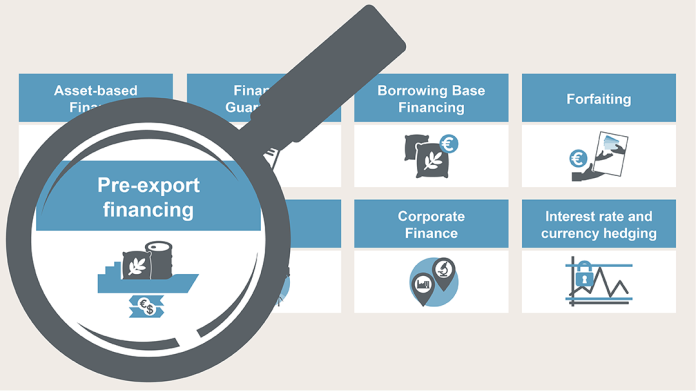 With our tailored pre-export financing (PXF), you can finance future proceeds from the sale of raw materials up to several years in advance. We structure this pre-financing to suit your individual needs, for example by taking into account the sale of your listed commodities (e.g. crude oil, oil products, non-ferrous metals, cocoa or grains) and the resulting cash flow.
Your future sales proceeds are already at your disposal as soon as the loan agreement is concluded. This gives you additional liquidity for investments in fixed assets, for example, provided the funds are freely available and are not needed to cover costs. In other words, PXF also allows you to finance investments and fixed assets from current funds.
Under PXF, we can provide you with international trading currencies such as US dollars, euros and pounds sterling worldwide. By increasing your stock of international trading currencies, your company compensates for currency risks in natural hedges – i.e. by reducing the currency amount to be converted.
With a view to the repayment modalities and the loan term to be agreed with you, the available raw material reserves or production volumes on site and the export conditions specific to a given country are particularly important. In addition to price trends and the off-takers of the commodities to be financed, we also consider commercial contracts and the resulting cash flows via offshore account structures.
Your company benefits from our structuring experience and international focus. As an experienced partner for made-to-measure pre-export financing solutions, we support you bilaterally or as part of a banking consortium.