Tip: Activate javascript to be able to use all functions of our website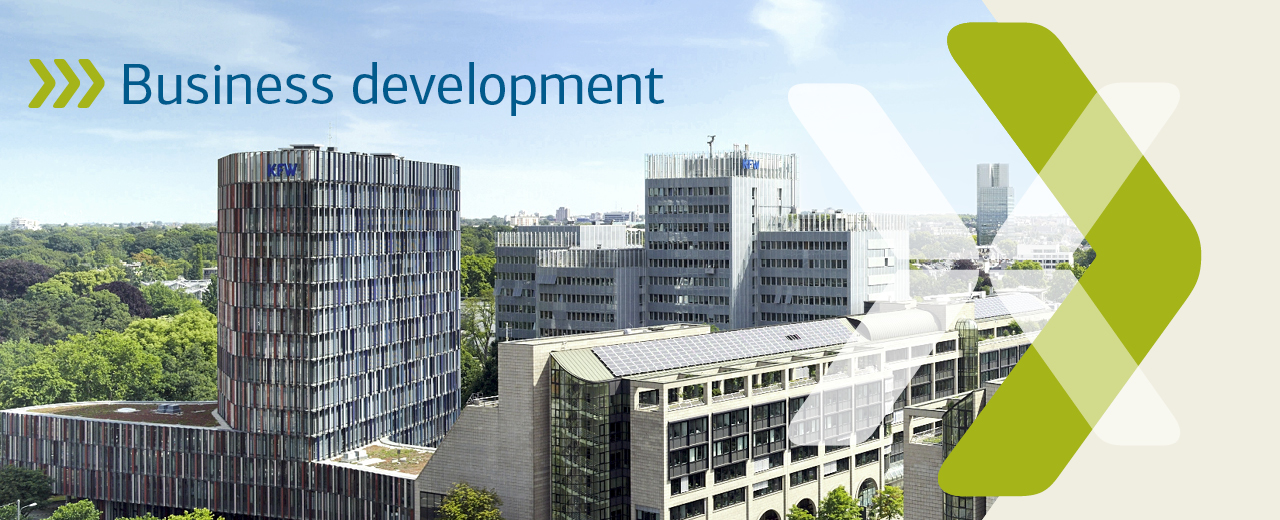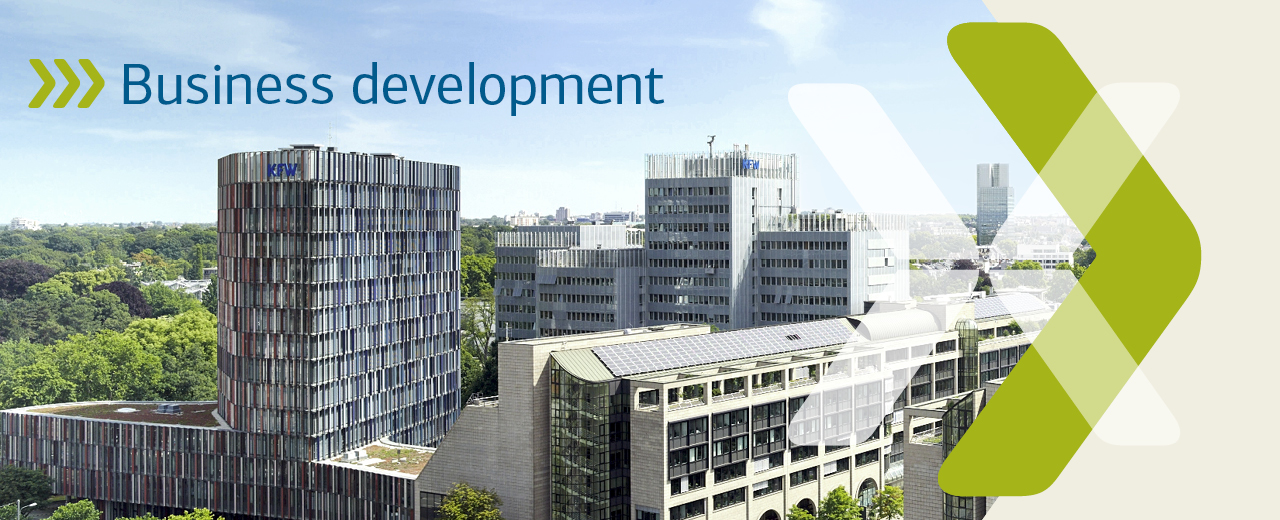 How we finance the future
Business development in 2019
Economic development slowed in the past financial year and the global economy grew by 2.9%, compared with 3.6% in the previous year. As a result global trade, measured in terms of growth rates, also lost momentum. Among the reasons for this are uncertainty arising from tariff threats and growing geopolitical tensions. Growth in demand for the capital goods such as those financed by KfW IPEX-Bank was therefore muted in some regions.
The market environment in which KfW IPEX-Bank operates was again intensely competitive, with high levels of liquidity and significant investment pressure on banks and institutional investors in 2019. In this context, KfW IPEX­Bank concentrated on supporting long-standing customers, borrowers with good ratings and on structuring financing backed by good collateral. In most cases, KfW IPEX-Bank was involved in syndicate financing arrangements together with other national and international banks. Despite these challenges, it provided financing totalling EUR 22.1 billion in 2019, the highest figure since the spin-off of KfW IPEX-Bank.
New commitments by sector department
EUR 18.6 billion (2018: EUR 17.0 billion) of this related to original lending business and EUR 3.5 billion (2018: EUR 0.7 billion) to funds for bank refinancing under the CIRR ship and ERP export financing programmes. In this respect KfW IPEX-Bank acts indirectly on behalf of the Federal Republic. Of its total commitments, EUR 13.1 billion were attributable to KfW IPEX-Bank's market business, while EUR 9.0 billion constituted trust business performed on behalf of and for the account of KfW (including CIRR).
All of KfW IPEX-Bank's sector departments made an important contribution to the bank's result in 2019. The Power, Renewables and Water sector department is of particular note, with EUR 3.2 billion in new business. A large proportion of the loans were awarded to projects relating to energy transition, such as onshore and offshore wind farms and LNG-to-power projects. All of these projects underline the bank's ambition to support global climate policy goals by increasing financing for environmental and climate protection measures.
New commitments in the Maritime Industries sector department are also worthy of mention. KfW IPEX-Bank provided EUR 3.1 billion to help protect Germany's shipping industry in 2019, safeguarding several thousand domestic jobs. At the same time, it provided financings to help develop more efficient and environmentally friendly drive solutions in shipping.
Responsible action
KfW IPEX-Bank plays an active role in driving the transition to sustainable economic and ecological development in Germany, Europe and worldwide. It provides individual medium and long-term financing solutions in order to support this process of transformation. In doing so, KfW IPEX-Bank is fostering advances in technology, with the aim of securing the basic needs and quality of life of future generations.
KfW IPEX-Bank supports the implementation of the Agenda 2030 agreed by the United Nations in 2015 and its 17 sustainable development goals (SDG) around the globe. In addition, it complies with the Equator Principles and the OECD's ECA Common Approaches. It also incorporates its own extensive appraisals into its decision-making processes when lending, to verify that the conduct of its borrowers is environmentally and socially sound.
Economic and financial results
Against the backdrop of the aforementioned challenges, KfW IPEX-Bank can look back on a very successful 2019 in relation to the financial result of the Export and Project Finance business sector. With a contribution to KfW's consolidated earnings of EUR 499 million (previous year: EUR 537 million), it played a part in securing KfW's long-term promotional capacity, thereby affirming its role as one of KfW Group's main sources of earnings.
KfW IPEX-Bank GmbH is a legally independent and separate reporting entity which undertakes all export and project finance market transactions. In the past financial year it achieved operating income before risk provisions and valuations of EUR 277 million, up EUR 19 million on the previous year. This positive result was mainly attributable to the bank's net interest income (EUR 311 million) and net commission income (EUR 201 million). Both earnings components increased year on year, while administrative expense fell slightly at the same time. As the risk provision and valuation result was up around EUR 80 million year on year, profit from operating activities before taxes came to EUR 185 million (previous year: EUR 238 million). The bank is very satisfied with this in view of the challenges it faced during the year.
The volume of lending in the Export and Project Finance business sector increased to EUR 69.1 billion at the end of 2019 (previous year: EUR 66.6 billion), owing to an above-average commitment volume in the reporting year.
Legal notice:
The information contained in this online Annual Report 2019 is based on KfW IPEX-Bank's Management Report 2019, which you can download here(PDF, 3 MB, non-accessible). Should this online Annual Report 2019, despite the great care taken in preparation of its content, contain any contradictions or errors compared to the Management Report, KfW IPEX-Bank's Management Report 2019 takes priority.