Tip: Activate javascript to be able to use all functions of our website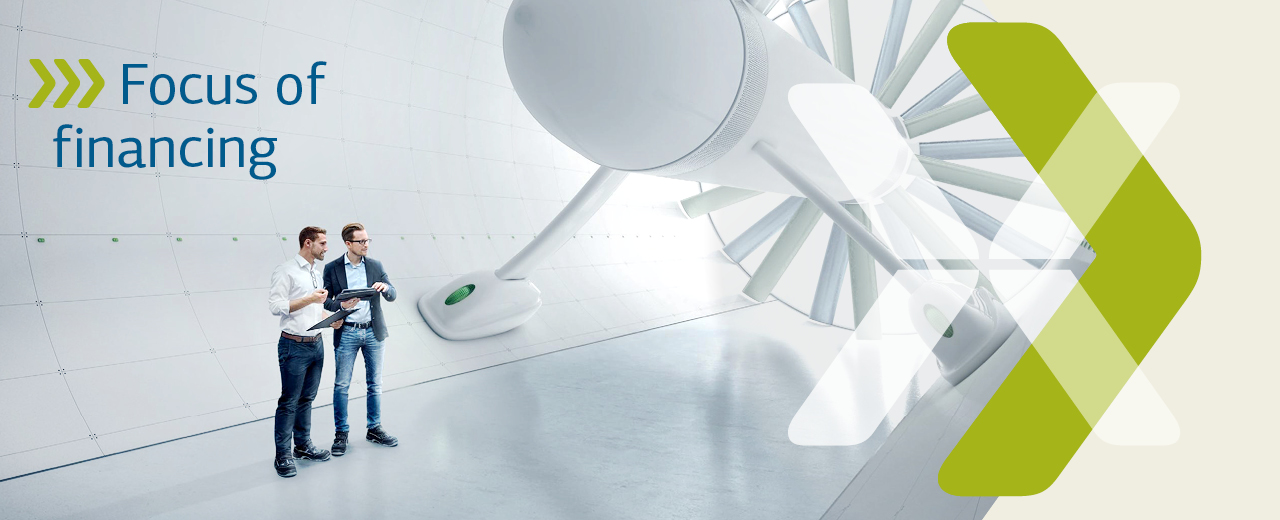 We support internationalisation
Focus of financing 2019
KfW IPEX-Bank achieved a lot in the past business year: across all sector departments, the bank fulfilled its legal mandate to support German and European exporters in international markets. In providing its financings, KfW IPEX-Bank plays an important role, be it in environmental and climate protection, assuring jobs at home and throughout Europe, diversifying Europe's supply of raw materials or in preserving and expanding essential - also digital - infrastructure.
In times of global trade conflicts, too, exports remain a key pillar of the German and European economy. Here again, KfW IPEX-Bank makes an active contribution, illustrated by its financing of 490 state-of-the-art Euro 6 diesel busses by the German commercial vehicle manufacturer Daimler for the public transport system in the Chilean capital of Santiago de Chile. By way of a USD 100.5 million loan KfW IPEX-Bank is helping to modernise the local infrastructure - at the same time, the new vehicles are significantly reducing CO2 emissions and improving air quality in Chile's capital. The financing also has direct impacts in Germany as these kinds of business transactions safeguard local jobs and prosperity.
Yet responsible action should not be limited locally, especially when it comes to climate and environmental protection. Regardless of where in the world the use of renewable energy is being expanded or measures to improve energy efficiency are being implemented, the global climate benefits. Along these lines, in 2019 KfW IPEX-Bank again financed a number of projects involving renewable energy sources - among them the Saint Nazaire wind farm, which was proclaimed the "Europe Offshore Wind Deal of the Year" by the renowned magazine "Project Finance International". The financing of France's first offshore wind farm totals EUR 2.0 billion; KfW IPEX-Bank's contribution adds up to EUR 100 million. Owners of the wind farm with its overall capacity of 480 MW are the French energy company EDF Renouvelables and the North American infrastructure company Enbridge. Through its participation KfW IPEX-Bank not only supports the energy transition in its neighbouring country, but also underscores its expertise in the area of offshore and renewable energies.
If the energy transition is to succeed, renewable energy projects are needed - but infrastructure measures must also be planned and executed in a sustainable manner. One example is the expansion of Stockholm's Arlanda airport, part-financed by KfW IPEX-Bank: The state-owned operator Swedavia is investing approx. EUR 1.7 billion through 2025 and KfW IPEX-Bank is contributing EUR 190 million. Extensive investments are planned to increase both terminal capacity and the range of services offered at the Swedish capital's main airport. The operator simultaneously plans to cut back all CO2 emissions in airport operations to reach its goal of zero emissions by the year 2020. In Stockholm and at the other nine state-owned airports, Swedavia is introducing a bundle of climate protection measures, including the use of renewable energies and biofuel to replace oil in heating the airport buildings, as well as additional measures targeting energy efficiency.
Across the globe KfW IPEX-Bank also finances projects that safeguard imports of raw materials for Germany and Europe - in part to facilitate sustainable expansion of green technologies of the future. These include the Nevada Copper Corporation's copper mine Pumpkin Hollow in the USA. The financing - which includes untied loan coverage - of USD 115 million is based on a long-term offtake agreement for the copper concentrate produced at the mine concluded between the project company and Germany's Aurubis AG, one of the world's biggest copper producers and global leader for copper recycling. Given its conductivity, copper is an essential raw material for the 'green revolution' in the mobility sector and for renewable energies, too.
Legal notice:
The information contained in this online Annual Report 2019 is based on KfW IPEX-Bank's Management Report 2019, which you can download

here

. Should this online Annual Report 2019, despite the great care taken in preparation of its content, contain any contradictions or errors compared to the Management Report, KfW IPEX-Bank's Management Report 2019 takes priority.