Tip: Activate javascript to be able to use all functions of our website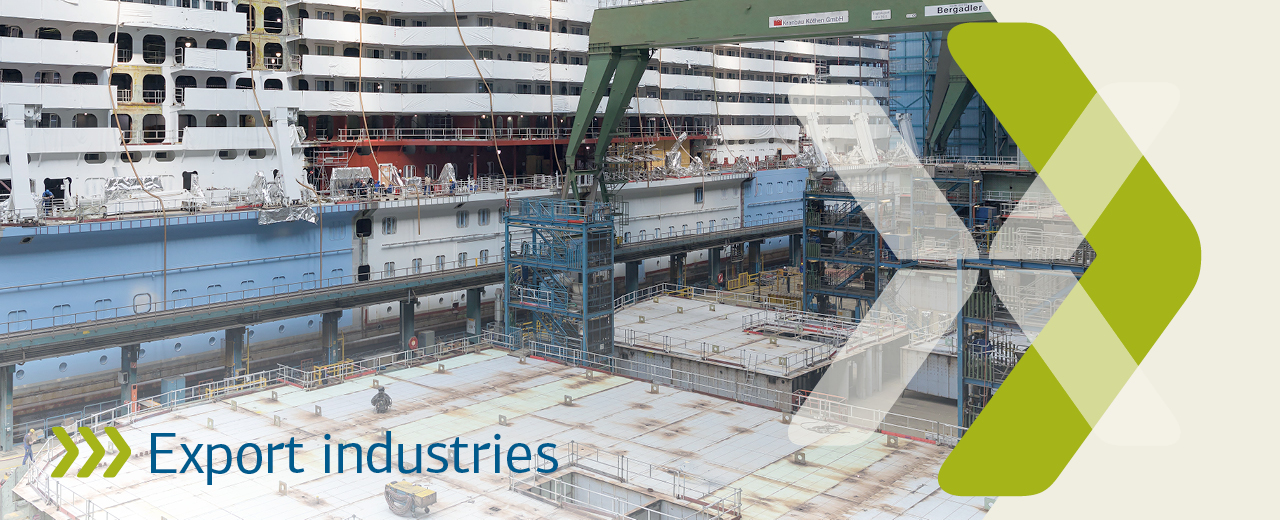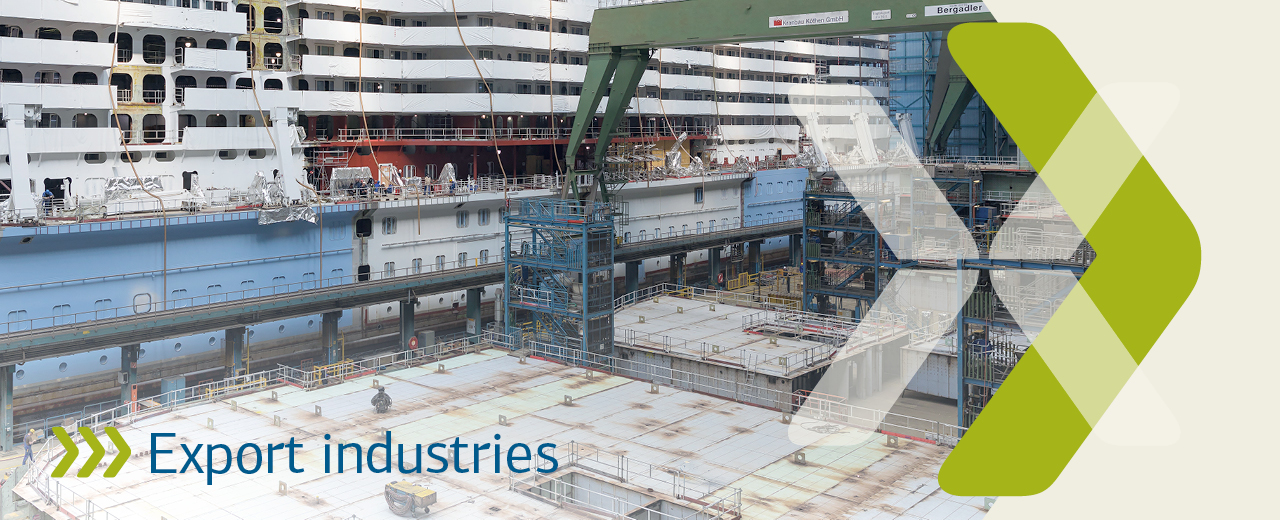 The economic growth driver for the whole of Europe
The export sector is one of the main pillars of the German and European economy. Exporters secure around 36 million jobs across Europe, while also creating annual added value of EUR 2.3 trillion within the European Union (EU).
Global trade creates local jobs – and KfW IPEX-Bank contributes to this, since its core mission is to support the export economy. Whether it be wind turbines, petrochemical refineries, cruise ships or diverse technologies of the future, with its medium-term and long-term financing solutions, KfW IPEX-Bank helps the German and European export economy to remain competitive, thereby securing local jobs and prosperity.
Supporting European exporters
This includes one project in which Norwegian cheese is to be made from Irish milk. KfW IPEX-Bank is providing TINE SA, Norway's largest dairy cooperative and one of the country's biggest food producers, with financing of EUR 50 million towards the construction of a dairy plant where it will produce traditional Norwegian Jarlsberg cheese. The new production facility will be built in southern Ireland in collaboration with the Irish firm Dairygold. The state-of-the-art, environmentally-friendly plant is expected to produce up to 20,000 tonnes of cheese a year for international markets.
As a specialist bank, KfW IPEX-Bank has been supporting German and European exporters in global markets for more than 60 years. Its expertise not only includes structuring demanding export and project finance for Europe's key industries – it also finances economic and social infrastructure projects in Europe, helps to secure the supply of raw materials for European industry and supports environmental and climate protection projects worldwide. KfW IPEX-Bank offers its clients in-depth sector knowledge and provides them with support in their individual target markets through its international network.
By providing tailored financing KfW IPEX-Bank supports German and European exporters in global markets - all the while ensuring economic strength, growth and employment in both Germany and Europe.
Experts in structuring finance to promote exports
Where appropriate, KfW IPEX-Bank draws on government instruments aimed at promoting exports. These include, for instance, export credit guarantees from Euler Hermes Deutschland AG, which performs this task on behalf of the German Federal Government. Export credit guarantees safeguard exports against defaults on payments for commercial or political reasons and are employed by KfW IPEX-Bank when structuring financing transactions. This allows German and European exporters to tap into even difficult markets, and their clients receive tailor-made financing.
Supporting companies in challenging markets
In the 2018 financial year, one example of this was financing of EUR 130 million provided by KfW IPEX-Bank – and backed by Hermes cover – to electrify 300 villages in Senegal. Through this project, electricity will be produced and supplied by means of decentralised solar installations and energy storage systems together with the connected electricity infrastructure. This financing will not only support the export economy, but will also contribute to sustainable local development, as the exporter has concluded an agreement to this end with Deutsche Gesellschaft für Internationale Zusammenarbeit (GIZ) with the aim of sharing knowledge with local partners and users.
Award-winning expertise
KfW IPEX-Bank regularly receives 'Deal of the Year' awards from leading international specialist publications for individual financing transactions, highlighting its structuring expertise and in-depth sector knowledge. The bank was among the winners once again in 2018, when several projects in which KfW IPEX-Bank was involved in the financing received awards, including:
PFI Europe Transport Deal of the Year: Blankenburg Tunnel, Netherlands
PFI LatAm Mining Deal of the Year: Mina Justa, Peru
IJGlobal European Offshore Wind Deal of the Year: Hornsea I wind farm
KfW IPEX-Bank's awards are independent proof of its performance in structuring complex financing transactions.
Legal notice:
The information contained in this online Annual Report 2018 is based on KfW IPEX-Bank's Management Report 2018, which you can download here(PDF, 2 MB, accessible). Should this online Annual Report 2018, despite the great care taken in preparation of its content, contain any contradictions or errors compared to the Management Report, KfW IPEX-Bank's Management Report 2018 takes priority.